The Launch
September 17th, 2019
Three years ago, we started making online training materials on gender, including three e-courses on Gender in Agriculture. Most of the stuff we made was available on our website, but we had a hard time promoting it. So, we were very happy that the Ministry of Agriculture embraced our training materials. They officially launched them for all members of the Agricultural Sector Working Group on Friday 31st August 2019.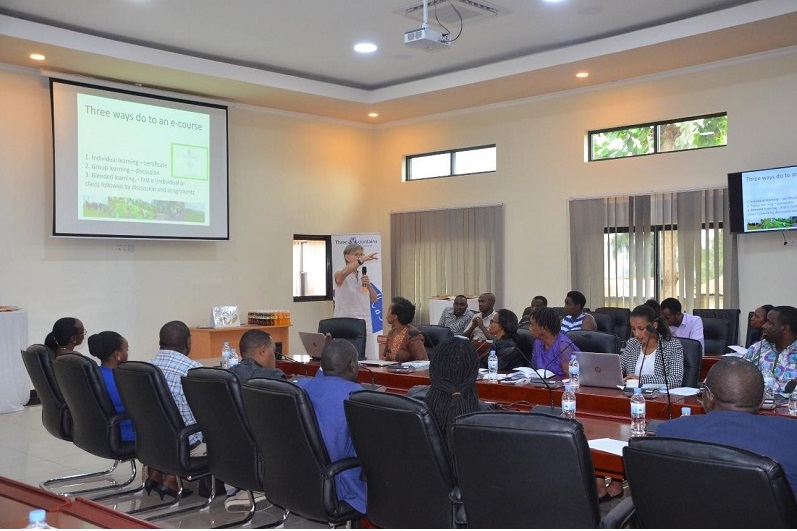 It was my first time participating in an official launch. About 30 people, who were in charge of promoting gender equality, came to hear how the e-courses and materials could be used to tackle gender inequality in agriculture.
I was especially interested in hearing the views of stakeholders on how useful they found our e-courses and materials. I was pleasantly surprised to learn that some people already use our materials to deliver training in the field. For others, it was their first time seeing it.
Martin Habinshuti, the project coordinator of RWAMREC, had used the materials.
"One day, I went to the field to train people about renegotiating role division," he explained. "I had a discussion with male and female participants, I used an image which depicts a man who is washing a baby and a woman who is planting seeds.
"The image provoked a lot of discussions. Some men argued that washing a baby can only be done by men who live in Kigali City. A little laughter happened during this time. Others said that sharing household tasks is a good thing.
" my own analysis, I think that visuals can help to convince farmers rather than only using words. Discussing a provocative image reveals the existing views in the room. This can help to come up with effective strategies to change thinking."
I also liked that Permanent Secretary Jean Claude Musabyimana, from the Ministry of Agriculture and Animal Resources, said, "The e-courses should get a prominent place at the homepage of the MINAGRI website, to allow users to find it easily. The information technicians in MINAGRI should make this happen."
With this in mind, I reflected a bit on our project. I've started to realise that if people use these e-courses and materials, this will have an impact on eradicating gender inequality in agriculture. Then, women and men will be able to make decisions together and jointly manage their farms and profits.
Does gender inequality still exist in your village? Co-operative leaders, trainers, learners, and all people in charge of promoting gender equality can use these e-courses and materials. They are available in Kinyarwanda and English, free of charge. You can access them at the Three Mountains learning advisors website. If you have any questions, let us know.
Sadiki Mwangaguhaba