E-courses at Rwanda Water Week 2019
May 24th, 2019
We went along to Rwanda Water Week at Marriot Hotel to demonstrate our new water management course. The conference ran from March 20 to March 21, 2019 and it was my job to welcome people to our stand and show them how our technology works.
"So, here's how you're going to do it," my colleague Nehemie said. "When someone comes to our stand, you're going to greet zim nicely and explain what we do."
Our stand had big banners and three laptops for people to try out our courses. We had prepared a demo course on Integrated Water Resources Management. By drawing people in with that, we could show them all the other online courses we'd made.
I was nervous because I had never hosted a conference stall before. When I saw the first person approaching, I desperately wanted to run away, but there was nowhere to run to. Thankfully, she turned out to be much nicer than I was expecting. I told her a bit about Three Mountains and sat her down at one of the laptops, where I showed her how to navigate our available courses. She thanked me before she left, and that was a real boost to my confidence.
Nehemie congratulated me in the afternoon on doing so well. He said he thought I had a talent for this.
"Well, it's not that complicated," I replied. "The people here are all very nice."
On reflection, I don't think I gave Nehemie the right answer. I didn't do well because the circumstances were easy. I did well because I feel passionately about the work I do. I was proud to explain our courses to people. Some hesitated, afraid of failing, while others jumped in and cheered when they got a question right. When this happened, I found myself laughing and realised I was happy. It felt fulfilling to see people having so much fun doing a course that I had helped create. Rwanda Water Week wasn't just work for me; it was a fantastic experience.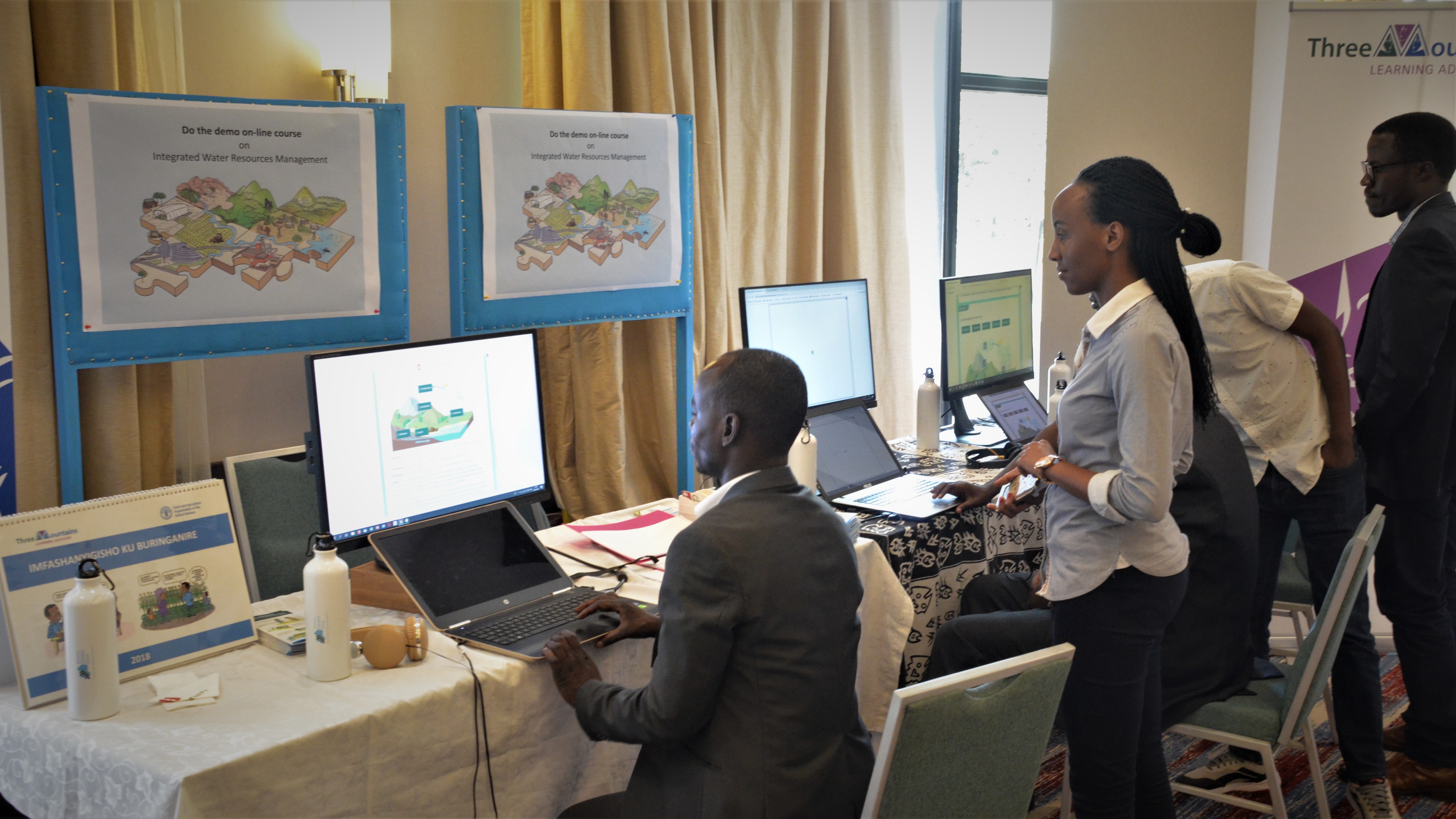 Three Mountains conference stand
Gretta Flora Irakoze